Filter by Category
Behavioral & Mental Health
Mindfulness & Technology
with Erica Marcus, MAT, Teacher, and Certified Mindful Schools Instructor, MaineHealth Learning Resource Center

Next session starts Nov 6, 2018 at 6 pm
Technology, like computers and smart phones, gives us incredible access to information and one another. However, it can also easily take over our attention and have a negative impact on our wellbeing. Young people are growing up in a world where technology is everywhere. They are still developing, so they are even more prone to negative effects.
Through this interactive class, families will learn about how technology impacts people who use it often and who depend on it. We will:
Review current research around screen use
Identify your current technology habits
Practice some mindful technology use
Create a Mindful Technology Use Plan for your family
This class will teach you how to manage your technology use, and how to support mindful technology use in your family, rather than be controlled by it. Children over 10 who are accompanied by parent are welcome. The price is $15 per person.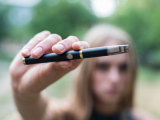 Vaping: The Target is Our Teens
with Kristen McAuley, MPH, Nikki Jarvais, and Jill Frame, MSW, LCSW, MaineHealth Learning Resource Center

Next session starts Oct 30, 2018 at 11:30 am
Join a panel of Maine experts for an interactive discussion on vaping, JUUL and electronic nicotine delivery systems (ENDS). Find out about what your teens likely already know about vaping and what young Mainers are telling our panelists about how they are using these products. You will also have an opportunity to see some of the most common devices, receive tips from a local high school substance abuse counselor on how to talk to teens about vaping and get the latest information on Maine law regarding ENDS and usage among Maine teens. Join us to get your questions answered so you can be better prepared to talk to the teens in your life.