Filter by Category
Special Events
Local Author Series: Kari Wagner-Peck's Not Always Happy
with Kari Wagner-Peck, MSW, MaineHealth Learning Resource Center

Sep 27, 2018 at 5:30 pm
What if we saw disability as natural? And Down syndrome was diversity instead of exclusion? This class will explore the common stereotypes about children with Down syndrome-- "they're always happy!" or ""they're so stubborn!" compared to the reality that like all children, children with Down syndrome are complex people with the same hopes and desires. This class is for both parents and professionals. Come with an open mind and heart-- and expect to enjoy yourself with frank, sharp and funny observations from the author's experience as a parent, an advocate and a clinical social worker.
Kari's memoir, Not Always Happy: An Unusual Parenting Journey was published in 2017. After the class, there will be a book signing for those interested in staying.
Movie Night: The Connection: Mind Your Body
with Mary Bitterauf, CHES, CHWC, Certified MBSR Teacher, MaineHealth Learning Resource Center

Oct 18, 2018 at 5:30 pm
The Connection is a feature documentary that uncovers the latest science in mind body medicine and proves we have much more to say about our health than we thought possible.
After being diagnosed with an autoimmune disease, Australian journalist and filmmaker Shannon Harvey traveled the world in search of the missing link in healthcare.
From interviewing world leading scientists to meeting people with remarkable stories of recovery from severe back pain, heart disease, infertility, cancer and multiple sclerosis, this documentary delves into the link between our mind and body.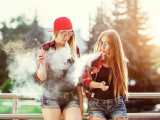 Vaping: The Target is Our Teens
with Kristen McAuley, MPH, Nikki Jarvais, and Jill Frame, MSW, LCSW, MaineHealth Learning Resource Center

Oct 30, 2018 at 11:30 am
Join a panel of Maine experts for an interactive discussion on vaping, JUUL and electronic nicotine delivery systems (ENDS). Find out about what your teens likely already know about vaping and what young Mainers are telling our panelists about how they are using these products. You will also have an opportunity to see some of the most common devices, receive tips from a local high school substance abuse counselor on how to talk to teens about vaping and get the latest information on Maine law regarding ENDS and usage among Maine teens. Join us to get your questions answered so you can be better prepared to talk to the teens in your life.