Filter by Category
Heart & Circulatory Health (Cardiovascular Care)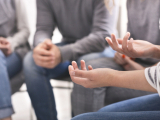 Online Registration Unavailable
ICD Support Group
with Maine Medical Center

Next session starts Jul 13, 2020 at 5 pm
Maine Medical Center and Maine Medical Partners – MaineHealth Cardiology offer an ICD (Implantable Cardiac Defibrillator) patient support group to patients and their families who have a device.
The mission of the ICD patient forum is to provide encouragement and education to patients and their support person so they may lead the fullest life possible while living with an ICD.
Registration is not required.
For more information, please call (207) 885-9905