Filter by Category
Greater Portland Region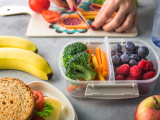 Lifestyle Medicine - Nutrition Classes (IN PERSON)
with MMP Falmouth Integrative Medicine, MaineHealth Medical Group

Oct 5, 2023 at 3 pm
2 additional sessions through Dec 7, 2023
Come join us for a one-hour, evidence-based discussion healthy nutrition! Each session is designed to build on another, but is also useful on its own if you can only make a few! We will focus on quality and quantity of foods, learn how to incorporate a whole-food plant-based eating pattern as recommended by the American College of Lifestyle Medicine, and demonstrate some cooking as time allows!
Note: Please arrive at 2:45.
Instructors: Shannon Sutton BSN, RN, CWHC and Amy Pearl BSN, RN, CWHC
Online Registration Unavailable
RESOLVE of New England (2023)
A monthly peer support group for men and women who are struggling to conceive or carry a pregnancy to term. 
A supportive, informal group supported by RESOLVE of New England and facilitated by Anne Belden, MSc. 
The group is free and meets the 4th Tuesday of each month from 6-7:30 pm in the Dana Center at Maine Medical Center. 
Please register with Resolve New England https://www.resolvenewengland.org/support/#rsvp.
For questions regarding the group, contact Anne: anne@annebelden.com  or call 207.233.5939