Filter by Category
Kids' Health (Pediatrics)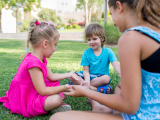 Safe Sitter
with Carol Welsh, WMH Family Birthplace

Current session started Sep 13, 2020
Due to Covid-19 we are not currently scheduling classes, BUT WE ARE TAKING NAMES for future Safe Sitter classes so please email Carol Welsh welshc@wmhcc.org to be put on the waiting list. As soon as we have enough names we will reach out to you with date options.
DO YOU WANT TO EARN MONEY AND HAVE FUN AT THE SAME TIME?
THEN SIGN UP FOR A SAFE SITTER CLASS NOW!!!
This nationally acclaimed program developed by Dr. Patricia Keener is a medically accurate, hands-on instructional program designed for young adolescents that teaches boys and girls how to be stay safe at home, have fun with children, as well as handle emergencies and behavior problems.
Classes are geared to students ages 11 -14. 
A scholarship from Safe Sitter is available upon approval. If you would like to apply for this scholarship, email Carol Welsh at welshc@wmhcc.org  or call 744-6151. Once approved you will be given a scholarship code that will reduce the cost to $35.00. you must enter your code when registering to get the discount.
Registration for the September class is now closed. If you are interested in signing up for a future class please contact Carol Welsh welshc@wmhcc.org or 207-744-6151.
Big Brother/Big Sister Class
with SMHC Birthing Suite

Next available session starts Dec 1, 2020 at 6 pm
Big Brothers or Big Sisters can have an opportunity for special time with Mom or Dad before their new baby arrives. This class includes:
Role play with their own special doll/stuffed animal you bring from home
Watch a movie about being a big sibling
Have story time 
Take a "field trip" to the Birthing Suite to see where Mom will be once the new baby arrives
This class will last exactly ONE hour. Recommended for Children ages 3 to 7. Mom should be in her last trimester. Class FEE is per family. When checking out, please do not add your children as attendees.
Safe Travels ~ Car Seat Class
with Alicia Provost, SMHC Birthing Suite

Next available session starts Dec 10, 2020 at 6 pm
Car seat safety has changed a lot over the years. Do you know the safest way to buckle your baby up?
This class helps inform parents, grandparents and other caregivers of the importance of proper child restraint use (car seats) for their infant. You will learn:
Evidance-based information
Do's and Dont's of car seat safety
Proper installation of infant seat & base
Please bring your infant seat, base and owner's manuals for both the seat & your vehicle (if possible). A variety of car seats will be present for demonstration purposes as well.