Filter by Category
Kids' Health (Pediatrics)
Safe Sitter
with Brittany Shaw and Carol Welsh, WMH Family Birthplace

Next session starts Feb 21, 2019 at 9 am
3 additional sessions through Aug 15, 2019
This nationally acclaimed program developed by Dr. Patricia Keener is a medically accurate, hands-on instructional program designed for young adolescents that teaches boys and girls how to handle emergencies when caring for children.
Safe Sitters learn: Infant & child CPR, choking procedure, safety for the sitter, how to call for emergency help, babysitting business skills, basic child care skills, and how to entertain children and keep them safe.
The classes are geared for students 11 -13 years old.
A scholarship for $15 is available upon request.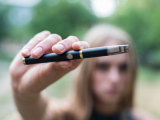 Vaping: The Target is Our Teens
with Kristen McAuley, MPH, Nikki Jarvais, and Jill Frame, MSW, LCSW, MaineHealth Learning Resource Center

Next session starts Oct 30, 2018 at 11:30 am
Join a panel of Maine experts for an interactive discussion on vaping, JUUL and electronic nicotine delivery systems (ENDS). Find out about what your teens likely already know about vaping and what young Mainers are telling our panelists about how they are using these products. You will also have an opportunity to see some of the most common devices, receive tips from a local high school substance abuse counselor on how to talk to teens about vaping and get the latest information on Maine law regarding ENDS and usage among Maine teens. Join us to get your questions answered so you can be better prepared to talk to the teens in your life.