Filter by Category
Online Classes
Naloxone Training
with PBMC Staff, Journey to Health

Next available session starts Jan 26, 2021 at 12 pm

, runs for 1 week
Naloxone is a life-saving medication that is used to counter the effects of drugs like heroin and prescription narcotics. Join providers from Pen Bay Medical Center to learn how to use naloxone to save the life of anyone who is experiencing an opioid overdose.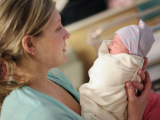 Preparing for Childbirth
with Leah Kohlstrom, Journey to Health

Next available session starts Mar 9, 2021 at 6 pm

, runs for 3 weeks
1 additional session
Whether you are expecting your very first child or are welcoming a sibling into your family, being prepared for childbirth is a priority. Join Leah Kohlstrom, doula and childbirth educator, for this engaging class to learn all about childbirth, including how to plan for delivery, the stages of labor and caring for your newborn. This class will answer your questions so you can better prepare for your birthing experience. Registration fee includes mom and partner.