Filter by Category
Prenatal Care & Childbirth
Online Registration Unavailable
NICU 101 (2023)
Do you anticipate that your baby may be born early or with a medical condition which could result in a stay in the NICU (Neonatal Intensive Care Unit)? Please join us for a tour of the NICU and have the chance to talk with NICU nurses. You will learn about common medical issues and NICU equipment, how your baby will be cared for, what parents can do to care for their baby in the NICU and hospital policies. This class is offered in collaboration with our March of Dimes NICU Family Support Program.
NICU Conference Room, MMC Coulombe Family Tower (formerly known as East Tower) FREE
* Please contact Janelle G. Bainter, MSW, NICU Family Support Specialist at jbainter@marchofdimes.org or 207-662-4831 for dates and to register for this class.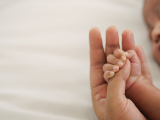 New Parents Circle 2023
with Ellen Kunkle, MMC Childbirth Education
Come together to share the story of your parenting journey and receive support and inspiration from other new parents.
Discussion topics include sleep, feeding, nurturing yourself, and relationship changes. This group is flexible to address your own needs and concerns. This group is facilitated by a childbirth educator who is also a trained doula and breastfeeding counselor.
This group currently meets online every Thursday morning from 10am - 12pm. Please register here to receive the link to log in.
Starting on June 1st, this group will be meeting in person (with a hybrid Zoom option, too) at the MaineHealth Medical Building, 5 Bucknam Rd, Falmouth. (Ground floor, lots of parking!)
The group is free but registration is required. Join anytime throughout the year. New members are always welcome!